To further complicate things, there is a cookhouse built in a completely different manner, with timber frame construction. The building has a center chimney, with fireplaces serving a room on either side.
According to information passed down the Nuckolls family, this building was built after the Civil War when it was no longer plausible to use the keeping room in the basement of the main house as the primary kitchen. But a study of the house and how it sits on the property raise major questions.
First, the type of timber frame construction suggests an early, pre-war date. More importantly, it is notable that this cookhouse is not aligned square with the brick house. As can be seen in the above aerial photo, it is off by several degrees. The other structures are aligned precisely square. It is inconceivable to me that the cookhouse would have been built from scratch, sitting so close to the other buildings, with no attempt to align them.
This raises the possibility that the cookhouse could have beeen moved from another location on the property to its present site. At the very least, it was built completely independently, with no context to the main house.
Could this be the original Hare residence? More study will be needed, and we may never know.
This building was attached to the main house for the first time in the 1980s, and now serves as the kitchen and breakfast room.
Above photo: Cookhouse after restoration in 2013
The Mebanes Arrive
John Howe Mebane apparently bought the property this house sits on and annexed it to adjacent land he inherited.
The Mebane family's presence in western Tennessee is well documented. To understand how and why they came, we need to go back to before the American Revolution.
William Mebane arrived in Pennsylvania from Ireland in the early part of the 18th century. One of his sons, Alexander Mebane Sr. (1716-1793), married Mary Tinnie in Pennsylvania and moved his family to North Carolina, settling primarily in what became known as Mebanesville. Alexander was the first sheriff of Orange County, N.C., and one of the nine men who selected Chapel Hill as the site for the University of North Carolina.
Alexander and Mary's six sons served in the Revolutionary War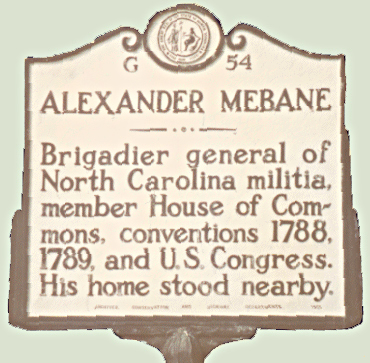 Alexander Mebane, Jr. was born in Pennsylvania in 1744 and moved with the family as a young child to North Carolina. He died in 1795 at Hawfields, near Mebane, Orange Co. (now Alamance Co.), NC.
Many years after his death, Alexander was listed in the Fayette Co., TN tax lists from 1824-1828 as having owned 250 acres here. It is presumed that this was a reward for his Revolutionary War service.
During the war, Alexander was a brigadier general in the North Carolina militia. He also was a delegate to the Provincial Congress of NC in 1776, justice of the peace, sheriff of Orange Co., member of the conventions that ratified the U.S. Constitution, member of the NC House of Commons, and U.S. Congress in 1792. He was re-elected, but died before his second term began. The city of Mebane, NC is named after him.
Below: Alexander Mebane Jr. and his wife Mary Mollie Armstrong
William Mebane was the eighth of 13 children born to Alexander Mebane Jr. and Mary, and appears to have been the fifth to reach adulthood. He was born 28 April 1779 at Mason Hall, NC, and died 3 May 1856 in Orange County, NC. He married Mary Wood on 16 January 1797. The will of William Mebane names his three sons: Alexander W., John Howe and William Grandison Mebane; and daughters Mary Frances (Mebane) Green and Eliza Ann (Mebane) Jordan.
More information on Mary Wood has been sent to me, and I will add it here when time permits. This firmly establishes the connections back to Bertie Countie along the Albemarle Sound in eastern NC.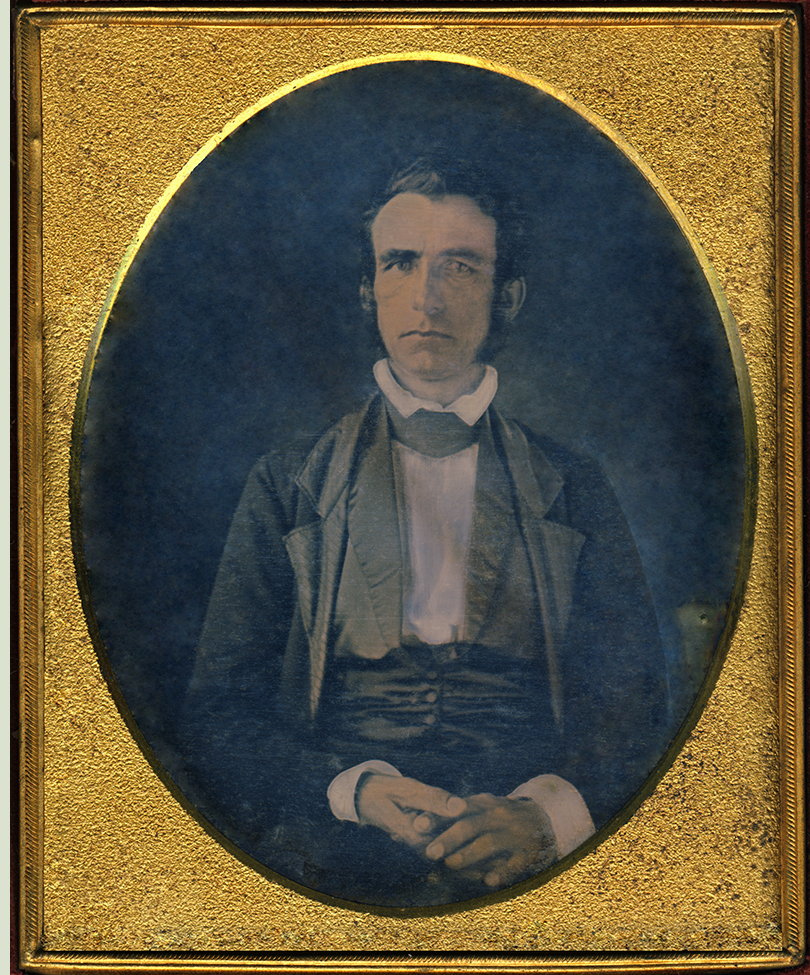 "Go west,"
but first go east.
John Howe Mebane was the second son of William Mebane and Mary Wood. He was born in either Orange County or Bertie County, NC on 15 August 1806.
I have received recent (May 2014) information that his mother may have been on an extended visit back east with her parents, as was common in those times since travel was so difficult, and John Howe may have been born in Bertie Co.
At some point, the adult John moved to the eastern part of the state, had his own property there, and apparently was a manager of The Hermitage, a family estate in Bertie County purchased by his older brother Dr. Alexander Wood Mebane.*
John's first wife was Ann S. Graves. They married 9 February 1837. She died in 1848 and was buried in a Mebane family cemetery in Bertie County NC**.
Alexander W. died in 1847 and is buried in the same cemetery. After his brother's death, there was apparently a dispute over control of the property, and it seems John decided to move on.
The 1850 US Census (Perquimans County, North Carolina, Township of Little River and Durants Neck page 349 dwelling number 470 family number 470) shows the following in the household:

John H. Mebane (43, farmer) Real estate value $32,000
Henrietta W. Mebane (32)
William G. Mebane (11)
John W. Mebane (10)
Ann E. Yancey (6)
William Mebane (21, student)

We know from real estate documents that they were here in Tennessee by April 1853.
As noted above, John's grandfather Alexander Jr. was known to own land in Fayette County, TN. He was listed several times in the county books as owing back taxes on 250 acres here from 1824-28.
Alexander Jr. died in 1795, so it is logical that he actually owned the Tennessee property in the 18th century. We do not know for sure how he acquired the land. It is notable that he was a brigadier general in the NC Militia during the Revolutionary War. High-ranking officers in that war were eligible for 7,200 acres, called a "bounty land warrant," for their service. North Carolina land agents issued such warrants in military districts in what was to become Tennessee.
Alexander's brother Robert was a "Senr Colonel Commandant" who served among other places with General Washington at Valley Forge. As such, he was also eligible for a land grant. Unfortunately, he was shot by a Tory after being taken prisoner at Charleston shortly before the end of the war. His brother could have taken the property as "heir at law."
These land grants were commonly sold and often changed hands many times.
So John Howe Mebane may have inherited the initial seed for what was subsequently a large plantation here. All he would likely have needed to do was prove the relationship to Alexander and pay the back taxes.
In addition to the land he laid claim to, with gold in hand John bought several large parcels. His holdings eventually came to 3,651 acres owned exclusively by him and an additional 812 acres jointly with his brother Wm. Grandison Mebane.
*The Hermitage, located at 311 Hermitage Road, Merry Hill, NC (36 05'12"N 76 44'00"W), was more than just a working plantation. An important part of the income came from a large fishery enterprise. More information on Hermitage Plantation is available here and here.
From the first link:
"In 1833 James Reed sold "all the land whereon I now live comprising the dwelling house tract...on Chowan River..containing 1,050 acreas...with all manners of improvements unto the said land and fishery" to Dr. Alexander Wood Mebane.
[Bertie Co. Deed Book DD pg 70. August 1833. James Reed to Alex. W. Mebane]
Dr. Mebane (1800-1947) was a native of Orange County, N.C. who was educated in Philadelphia. Mebane apparently settled in Bertie County after his marriage to Mary Howe, "a lady of fine estate" and a local resident. Dr. Mebane represented Bertie County in the House of Commons from 1829-1831, and served in the state Senate from 1833-1835. According to one source, Dr. Mebane "settled in Bertie County on the Chowan River, where he became one of the successful and enterprising men of that section. He was a man of unblemished reputation, faithful to every duty, active and energetic in every good work and enterprise.
Possibly Dr. Mebane was responsible for the Greek Revival changes to the house. At the doctor's death in 1847, [will Bk G pg 413] the Hermitage was inherited by his wife, Mary; after her marriage to James Raynor, the couple resided at the Hermitage until Mrs. Raynor's death in 1855."
**This link contains information on the Mebane cemetery in Bertie County NC.
The author suggests that William Mebane moved his family there first. He further states that John Howe Mebane was actually born in Bertie Co. I do not think those assumptions are correct, but include the link because of its information on the cemetery and markings on the gravestones.
This link provides corroboration for the first one. It includes the following:
"From Moore's History of NC Vol II, p16- Concerning the Legislature of 1829 'Among the new members of this year was Dr. Alexander Wood Mebane of Bertie. He was reared in Orange, but had married his cousin Mary Howe of the Hermitage on Chowan River and dwelt at that noble homestead.' "
So cousins of the Orange County Mebanes were already living in Bertie.
The nomination form for The Hermitage to the National Register of Historic Places Inventory is available here. The form inclues the picture shown above. It also provides documentation of the transfer of the property from "James Reed to Alex. W. Mebane, August 1833, Birtie County Deeds, Book DD, 70.
------
Back to the cast of characters who made the trip to Tennessee.
It has been said that Henrietta W. Mebane was a large woman who had difficulty "getting around."
From Tennessee Tales linked below:
"Granny Henny in her last years became a very stout old lady and she didn't leave home often. When she did venture forth, she elected to go in a unique style. Instead of going in the carriage, a one horse wagon was driven up to the back porch which was just about level with the bed of the wagon and a low straight split bottom chair was placed in the wagon bed. She stepped from the porch to the wagon, was seated in her chair and away she and the driver went. The old lady was partial to fresh cucumbers in the summer and Mama said the cause of her death was an attack of acute indigestion from indulging in a soup plate of fresh cucumbers with ice. (Ed. Note from Dr. Yancey Mebane: acute myocardial infarction)"
I can only imagine how difficult the trip from North Carolina must have been for her, riding a wagon the entire way.
Again from Tennessee Tales: "The distance from Perquimans County NC on the Albemarle Sound to west TN must have been at least 1000 miles as the crow flies and undoubtedly longer by roads which were as crooked as a dog's hind leg."

John Howe Mebane's great-grandson, Dr. Yancey Mebane, has donated "Granny Henny's" silver pitcher and Goblets.
Yancey has asked that this silver remain with the old family home. Henny's tole box was also donated to us.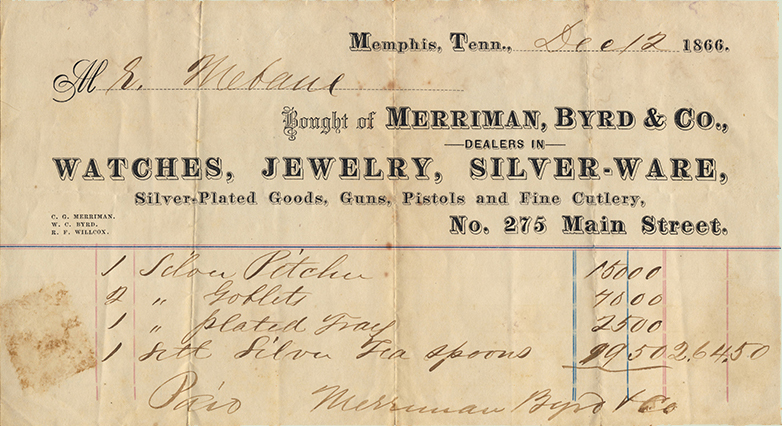 Receipt for the silver purchased from a Memphis, TN shop.
Henny died in 1872 and John passed away 3 years later.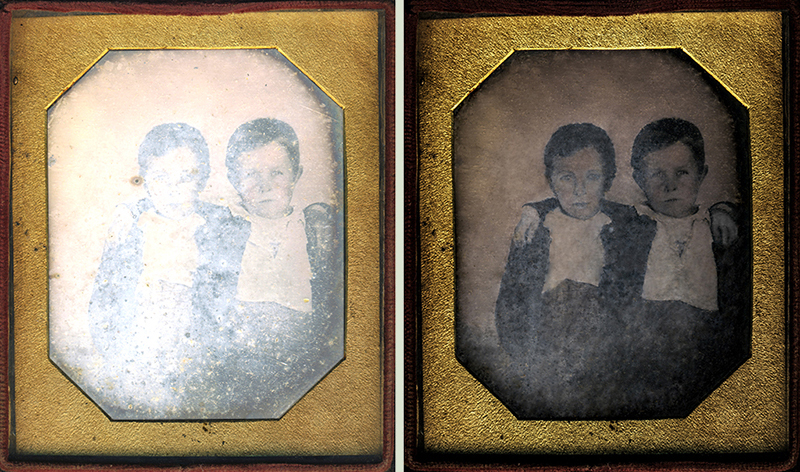 John and Ann's first two children were the boys. This is an 1840s Daguerreotype of John Wood Mebane and William Graves Mebane during their North Carolina years. Shown before and after my restoration work in Photoshop.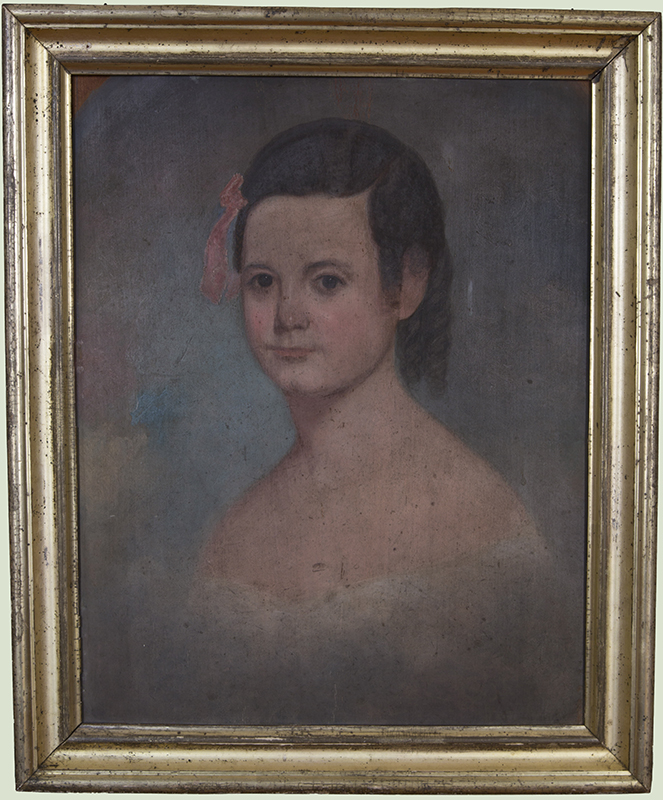 Giles Mebane gave us this portrait while I was visiting the family in North Carolina in April, 2014. She is one of the twin sisters of Wm. Graves Mebane and John Wood Mebane. Bettie died on or before age 9, prior to the move to Tennessee. She was buried at Mason Hall, Orange (now Allamance) County, NC. Nannie died at age 12 and is buried here.
John Howe Mebane and Henrietta W. Mebane endured a great deal of suffering. Each lost a spouse prior to this marriage. John's twin daughters died three years apart. Anne, Henny's daughter from her first marriage, then passed away at age 18. John and Henny had one child, also named Henrietta. She died before her parents at age 17. One of John's sons was killed in battle during the Civil War. The other contracted tuberculosis while in a P.O.W. camp. He remained sickly, and died at age 44 after his parents passed away. Fortunately, Wm. Graves Mebane had children who prospered despite the harsh realities of Reconstruction.
This portrait is now in our guest bedroom. She graced a wall in this house at least 158 years ago and has returned.
Nannie died here at age 12. As mentioned above, her twin Bettie died in North Carolina.
It was customary in those times to keep a bit of hair from a deceased loved one. These were often kept in lockets or pressed between papers.
From the Tennessee Tales story:
"Another time a group of Yankees came and in going over the house, they spied a small trunk under Granny Henny's bed. It was dragged out and they demanded the key. The trunk was unlocked and its contents looked over. Among the contents were curls of hair of Nannie Mebane who had died about the beginning of the war. One of the men took his saber and reached under one of the curls, lifted and said with a sneer, 'So the old girl wears curls!'"
According to Tennessee Tales, "the court records of Caswell County NC April 1853 show that Ann B. Yancey was ordered to turn over to John Howe Mebane of Fayette County TN property she held for Ann E. Yancey."
Henrietta W. Graves Mebane had been married before to Algernon Sidney Yancey, who died in 1846. He is buried in Yanceyville, Caswell County, NC. Their daughter was Anne E. Yancey. As Anne's stepfather, John Howe Mebane was apparently awarded the property in court.
I do not know where the property in Ann's name was, but assume it was in Caswell County. If John subsequently sold the property, it would have freed up some money for future purchases in TN.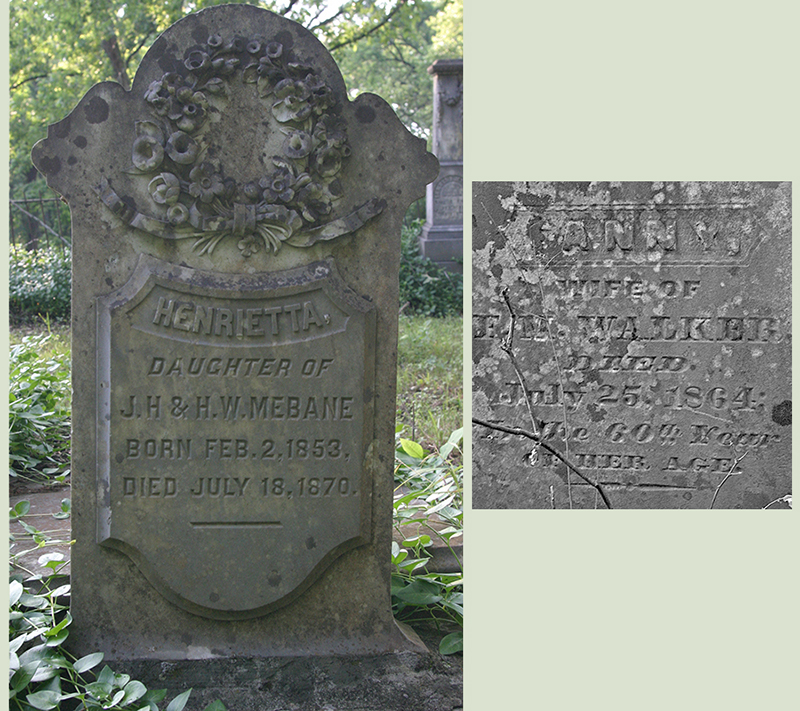 Henrietta, the only child of John Howe and Henrietta W. Mebane, died at age 17.
Frances Fanny Mebane was born in Orange County NC on 3 September 1802. Her parents were David Mebane (1760-1843) and Ann Allen (1765-1812).
David Mebane was Alexander Jr's youngest brother. They were born 16 years apart. So Fanny's father and John Howe's grandfather were brothers.
She married Fenner M. Walker in Orange County, NC on 7 September 1840. The 1850 census shows them in Guilford County, NC (Greensboro) and Fenner is listed as a saddler. We do not know when they came to TN.
After her death, he moved back to NC, and married again in Orange County in 1867.
Click the link below to read a story about the arduous trip from NC and the Mebane years in Tennessee as told by Nannie Graves Mebane Donoho (1869-1954), who was a granddaughter of John Howe Mebane and daughter of William Graves Mebane.